---
Zap! Plop! Pow! Bam! Vroom!  This week's #FridayReads feature some of our illustrated reads in anticipation for our upcoming Style & Story: Comic Books to Graphic Novels program on Tuesday, March 27th at 6:30 PM.
Archie by Mark Waid and Fiona Staples
Veronica Lodge, Jughead Jones, Betty Cooper, and America's favorite teenager Archie Andrews all return in this modern reimagining of a classic comic book tradition.  For over 75 years, Archie has been a popular mainstay for both adults and young adults alike, but thanks to the popular television series, Riverdale, Archie is back with a 21st century spin.  You can still count on love triangles, gossip, break-ups, friendship, humor, bizarre situations, action, adventure, and school dances with cute characterizations, entertaining plot lines, and skillfully drawn artwork.  This new full-color edition combines the traditional comic book style with a modern graphic novel format, keeping Archie and his gang appropriate for an all age audience.  Check out volumes one through four!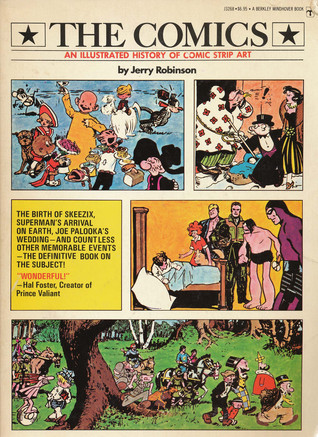 The Comics: An Illustrated History of Comic Strip Art by Jerry Robinson
As a medium, comics have the unique ability to simultaneously combine visual and verbal experiences in an ongoing, living art form.  Every day people around the world read comic strips, and they often reflect and mold our societal mores, morals, and illusions.  In The Comics: An Illustrated History of Comic Strip Art, Jerry Robinson explores the origins and the evolution of newspaper comics strips.  From popular strips like Peanuts, The Wizard of Id, and Boner's Ark to lesser-known cartoons such as The Timid Soul, Boots and Her Buddies, and Winnie Winkle and the Breadwinner, Robinson provides comprehensive descriptions of artists and their styles complete with reproductions.  Learn how time, repetition, and rhythm all play a critical role in comic art in this carefully-researched guide is informative to art form connoisseurs, historians, and casual readers alike.
My Friend Dahmer by Derf Backderf
On July 22nd, 1991, Jeffrey Dahmer was arrested in Milwaukee and later charged with the murder of seventeen boys and men.  To many of Dahmer's Revere High School (Richfield, Ohio) classmates, including Derf Backderf, this didn't come as a complete surprise.  To them, Dahmer was always a strange, disturbed teenager, and Backderf, award-winning political cartoonist and comix creator, tries to make sense of Dahmer in his graphic novel My Friend Dahmer.  Focusing on Dahmer's early life, Backderf explores how the agonies of high school and the cruelties of adolescence combined with Dahmer's mental deterioration that ultimately lead to his grotesque crimes.  Berkderf utilizes interviews, personal research, and empathy to explore Dahmer's life in a thought-provoking way.  Known as an inhuman monster by the world-at-large, Backderf illustrates a sympathetic portrait with an original, bold, and beautiful style.
Share This: