---
There's a new library in town, located at the bottom of the steps leading to the library's Murray Avenue entrance. It's a Little Free Library, one of more than 15,000 worldwide and reportedly the eighth to be erected in Shorewood.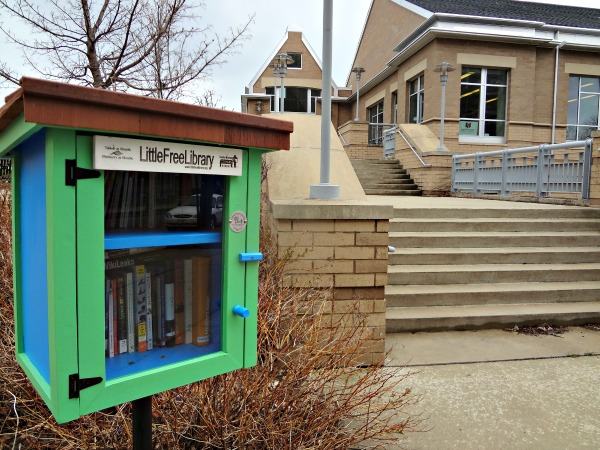 Brought to you courtesy of the Friends of Shorewood Public Library, the Little Free Library should come in handy when in the mood to do a bit of brook browsing only to find the Shorewood Library closed. One day last week, the approximately 20 volumes inside included titles such as: The Color of Water, WikiLeaks, Olive Kitteridge, The Lord of the Rings, The Emerald City of Oz, and Quick Veggie Curries.
The very first Little Free Library was created in 2000 by Todd Bol of Hudson, Wisconsin, in honor of his mother, a schoolteacher who loved to read. By some estimates, more than 1.6 million books were donated and borrowed from Little Free Libraries from 2010 to 2013. The idea is to "Take a Book. Leave a Book." But just to make sure our Little Free Library is never empty, the Friends' volunteers who run our Used Book Sale—Board Member Alice Davis, Maggie Lintereur, and Jane Jansen—have agreed to oversee its operation, keeping it stocked with a mix of fiction, non-fiction, and children's books. Many thanks, ladies!
One thing not everyone knows about Little Free Libraries: each can be registered (ours is!) and tracked through its GPS coordinates. And one fun fact: In late 2012, Whitefish Bay outlawed Little Free Libraries because of a village ordinance banning structures in front yards. However, the ban remained in place for less than a year before officials bowed to public pressure and rewrote the ordinance.
Many thanks to the Friends' members and other library patrons whose donations made this project possible. Thanks as well to: Joan Spector, Friends' vice president and chair of its Volunteer Committee, for pushing this project through to completion; Lou Maris, who painted our Little Free Library; and members of the village's Department of Public Works staff, who installed it.
For more information about the Friends, please contact us at shwd.libraryfriends@gmail.com
By Priscilla Pardini, President of the Friends of Shorewood Public Library
Share This: