---
When Priscilla Pardini was announced as the 2017 Volunteer of the Year for the Shorewood Public Library by Friends President Jeannee Sacken on December 20, the only surprise was that she had not received this award before.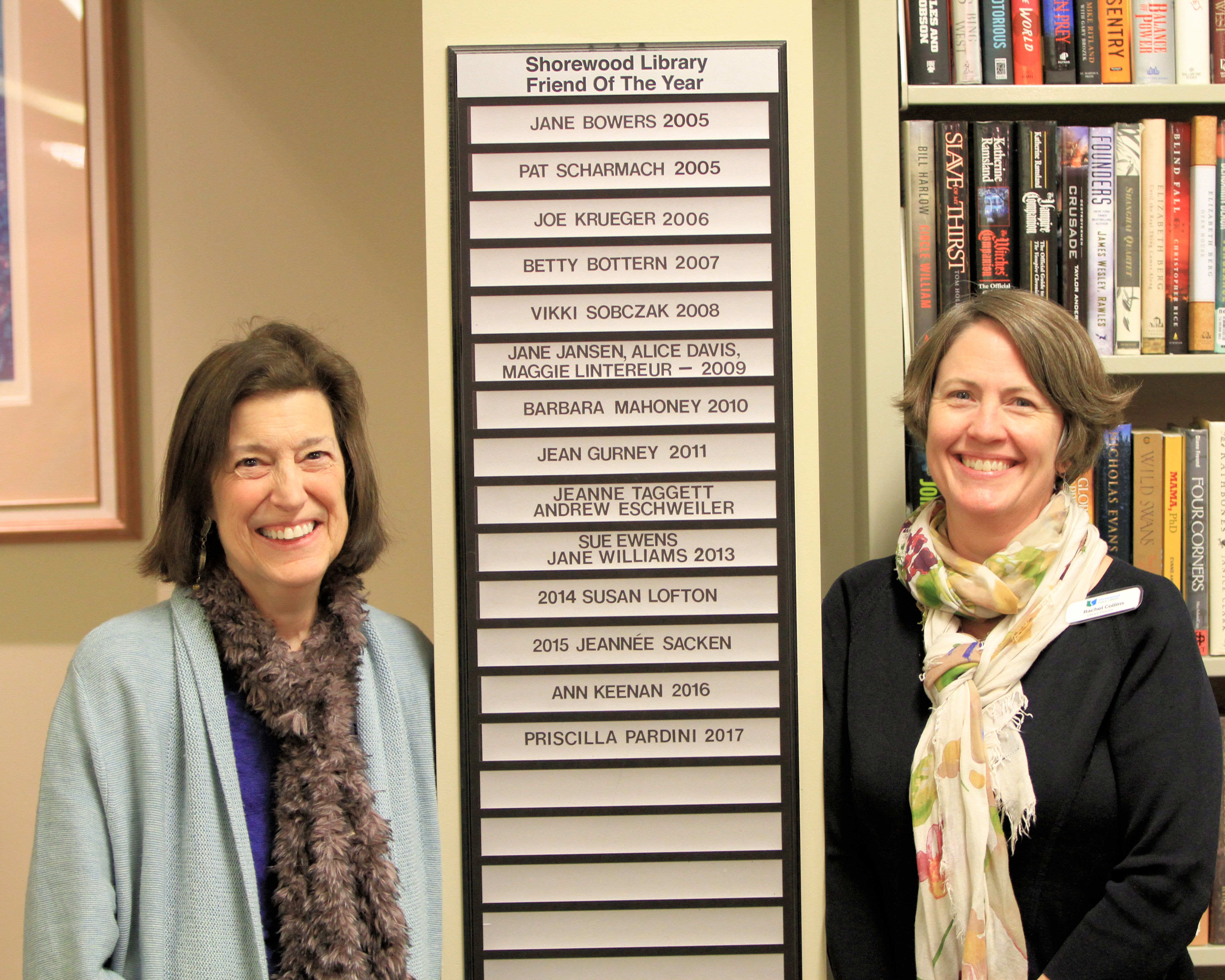 Pardini's presence and contributions to the library have been felt since Pardini and her son Casey, now in his 20s, made regular trips to the library for reading materials, research projects and story hour.
One of the longest-serving members of the Friends board, Pardini has served as Board President, committee member for all three Shorewood Reads programs, for which she served as chair in 2015, and coordinator of the Adopt-Shelf Volunteers. Pardini also helped raise funds for the new library which was built in 2003.
Members of the board shared their heartfelt thanks and memories of Pardini at the meeting.
Joan Spector, who chairs the Friends' volunteer efforts, said that, "No one is as passionate about literacy as one of the finer things in life than Priscilla." Spector also noted Pardini's strengths as a leader in making the Friends a vibrant group and a rewarding volunteer experience. She said that Pardini, "inspires, is inclusive, is innovative and enhances the volunteering experience of those with whom she works."
Elizabeth Jonas, Friends' treasurer, is a friend and neighbor of Pardini (who recruited Jonas for the board). Jonas noted that Pardini's trips to the library when her son was young "opened the world for him." Jonas said that this and her observations of Priscilla as a volunteer, "is why I believe Priscilla is a lover of libraries."
Susan Lofton, who leads membership for the Friends, said that Pardini's professionalism and attention to detail brought new life to the Friends board and is one of the reason's she has committed her time and energy to recruiting new Friends.
In addition to Pardini's name being added to the volunteer recognition plaque across from the circulation desk, the board awarded her a tribute book plate in her name with the unique privilege of selecting the book—from all the books in her beloved library—that will bear her name.
- Submitted by Anne O'Meara
Share This: