---
Ready or not – the holiday season is upon us!  As Thanksgiving nears, we would like to give thanks to all of those who give so generously to the library, whether it be their time, talents, or funds.
 In the spirit of the season, we offer heartfelt thanks to -
The Milwaukee Craft Guild – Local members of this creative community group designed and built the new seasonal backyard in our Early Learning Center. In addition to the thoughtful planning and meticulous construction, they researched child-safe materials to ensure a safe and fun play area.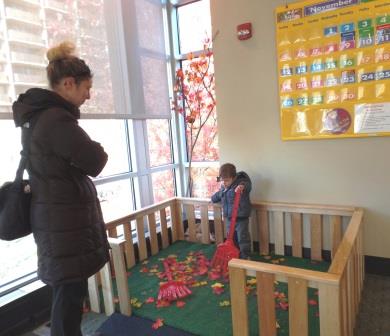 Individual Benefactors – Every year, the library receives generous financial gifts in honor of special family members and friends. This year we were able to purchase new copies of childrens' classic books in memory of a much-loved mother, grandmother, and library patron. The memorial collection includes timeless favorites such as Good Night Moon, The Very Hungry Caterpillar, and complete sets of Little House on the Prairie and Ramona books. We are always honored when families choose the library to be the beneficiary of these very special gifts.
Friends of the Shorewood Library – Our wonderful Friends group funds some of our most popular programs including children's and teen summer reading events and the annual Summer Celebration. This year, they also provided funding for a new puppet theater and puppets for the Early Learning Center,. Friends' volunteers can also be seen helping out at some of our most popular events like the Summer Celebration, Seuss Celebration, and Halloween Happening.
Local Businesses- Member of the Shorewood area business community have been active and willing donors to library efforts. Our local Culvers is one of our strongest partners – contributing to the Summer Celebration, summer reading and other popular programs. We also enjoy strong business partnerships with Boswell Bookshop, City Market, Chocolate Factory, Falbo's Pizza, Goody Gourmet, Metro Market, and Vedo's Pizza.
Village Departments – Like most families, our Village of Shorewood family is always willing to help out when needed whether it's keeping our building functioning and safe or sharing their expertise at our programs and events. Throughout the year, we work with Shorewood's amazing Department of Public Works, Shorewood Schools and Recreation Department, Shorewood Police Department, Senior Resource Center, and the North Shore Health and Fire Departments. Their contributions may not be as obvious as some others, but they play a valuable role in delivering quality service in a comfortable environment.
Volunteers – We must thank all of those people who share their time and talents with the library including the Woman's Club, our community balloon twisters and face painters, and the many teens who help staff our big events and prepare summer reading prize packets. It is not an exaggeration to say we could not do it without them.
You –Of course, we must thank all of our fantastic library users. Your ongoing support and encouragement makes Shorewood Library one of the most used and most loved public libraries in Milwaukee County. It is a pleasure for us to serve you.
Happy Holidays!
                                                          Seasons Readings!                                                          Add reading to your holiday activities. Check out our displays of holiday books.
Share This: