---
Looks a little different, doesn't it? We're very excited to be bringing you an interactive 21st century website that better represents who we are and how we serve you. In fact, you're the reason it exists.
Think of the new ShorewoodLibrary.org as your library's virtual branch. It's open whenever the Internet is (i.e. all the time) and gives you all kinds of access to the library's many resources.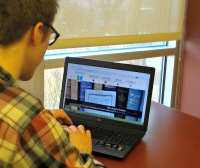 Here are a few of the most useful things you can do with this new website:
Learn lots! Our research tools are much easier to find and use. Just check out the Grow section: it's dedicated to helping your brain, well, grow! Whether you're doing research for school, for work, or for fun, you'll find the tools to make it happen.
Get to know us, and your community. Both the Discover and Connect sections are all about (you guessed it) discovering and connecting to Shorewood, the Library and your family & friends. Just like when you run into your neighbors at the library when you're picking up your Friday night movies, here at the virtual branch you'll run into the Friends of the Library, Village organizations, and your neighbors the Shorewood Library staff.
You can still do all the important things, too. Let this video show you how to log in to your account and get to the library catalog from the new site:
As you can see, it's easy to get to the library catalog and to log into your library account. It's also easy to do lots of new things on the new website, too! We hope you'll tour all the features. Stop by and chat about the site with any of our staff members at the customer service or information desks. We can't wait to show you our favorite parts of the new site and learn what yours is.
Share This: