---
Join us Wednesday, May 23rd at 6:30 PM to learn more about Mongolia.  Local photographer, author, and adventurer Jeannee Sacken and her husband Michael Briselli will explore Mongolia's history, taking us from the modern capital city of Ulaanbaatar back 800 years to the time of Chinggis Khan. Then, it's off to the wild western region of the country for the Golden Eagle Festival where girls are now competing in this time-honored tournament that features speed, agility, accuracy, and traditional dress.
In the meantime, here's some reads related to Mongolia, falconry, and adventure…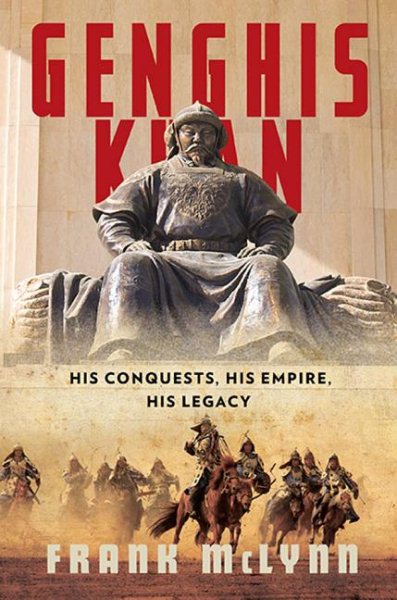 Genghis Khan: His Conquests, His Empire, His Legacy by Frank McLynn
Genghis Khan (1162-1227) was one of the world's greatest conquerors.  His empire, the Mongol Empire, began at the Pacific Ocean and spread all the way across Central Europe and included China, the Middle East, and Russia.  In fact, the Mongol Empire was the largest contiguous empire in world history, but how did an illiterate outcast become one of the world's most fierce, tenacious rulers?  Genghis Khan organized fractious Mongol nomadic tribes to become some of the best in horseback warfare.  Historian Frank McLynn explores the cultural background and battles that lead Genghis Khan becoming one of the most powerful men to have ever lived.  McLynn also expounds of Genghis Khan's role in bringing forth the Renaissance as well as the myths and legends of him being a heinous murderer.
H is for Hawk by Helen Macdonald
After Helen Macdonald's father died suddenly on a London street, she fell into a spiral of grief, sadness, and depression.  To help cope with her loss, Macdonald adopted a goshawk, one of the world's most vicious predators.  Already an experienced falconer, Macdonald named her goshawk Mabel, and together the two spent hours on end, avoiding people and learning about each other on the hunt.  It wasn't long before Macdonald realized that Mabel was mirroring her own grief.  Part memoir, part nature writing, and part historical mediation, Macdonald's H is for Hawk is a captivating story of how one woman's relationship with an animal took her to places that she never thought of going.        
Wild by Nature: From Siberia to Australia, Three Years Alone in the Wilderness on Foot by Sarah Marquis
National Geographic Explorer Sarah Marquis traveled ten-thousand miles on foot.  For almost three years, Marquis' hike took her across six countries including Thailand and Australia as well as through major land forms like the Gobi Desert and the Siberian Tundra.  Throughout her journey, Marquis endured numerous of challenges like extreme temperatures, dehydration, and physical illness as well as dangerous circumstances like encounters with the mafia, drug dealers, horseback thieves, and wild life.  So, why did she do it?  Marquis took on the challenge to support all of the women who are fighting for their freedom.  Learn more how Marquis used ingenuity, perseverance, and resilience for her around-the-world adventure in this exciting armchair travel read.   
Share This: